JustVPS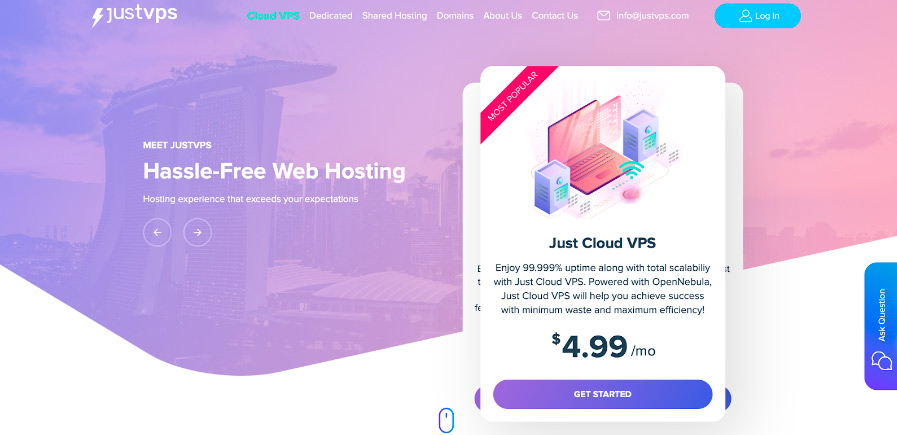 Best for: Cloud VPS, innovative solutions, customer loyalty, learning resources
Payment options available: credit card, cryptocurrency, PayPal and AliPay.
Brief overview
is a Singapore based web hosting company of the new millennia that is actively developing its community and products. The company has launched a YouTube channel where they regularly upload interesting content explaining the world of web hosting in simple words, helping people select the right type of hosting and answering frequently asked questions. They as well run a TikTok channel where they post video updates on the latest crypto news.
Services
You can find all the information on JustVPS services that you might possibly need on their website. They also have a live chat where you can get a free consultation. They even have a configurator that allows you to select a service that you want and make a quick purchase without registration!

Meet Just Cloud VPS
Powerful Cloud Hosting solutions for you to manage and grow your business in Singapore. Increased server power and flexible resources. Enjoy full scalability and 99% uptime. Powered by OpenNebula — an easy to use open source powerful Cloud Management Platform.
You can easily scale your Cloud VPS to get even more power directly in your personal account. It'll only take a quick server reboot to increase the size of your virtual machine disk and you can enjoy your improved Cloud VPS in a matter of minutes!
On top of that, JustVPS offers a wide variety of both free and paid control panels to manage your VPS: cPanel, Plesk, ISP Manager and Vesta CP.
Meet Just Dedicated
Looking for greater control, security and a high performing server able to handle increasing volumes of traffic? Please your visitors with the high website load speed, gain more trust from the search engines, implement any security measures you like with dedicated hosting by JustVPS.
Meet Just WordPress Shared Hosting
A great solution for your WordPress CMS website! If you've never worked with VPS and aren't ready to dive deep into the crazy world of system administration, JustVPS offers 4 Shared Hosting plans powered by the Plesk control panel which is perfect for startups, blogs and smaller projects.
All plans are optimized specifically for WordPress and you can even get a server with this CMS preinstalled. JustVPS offers Plesk WordPress ToolKit solutions to help you manage your WordPress. However, you still can host your site using any other CMS or framework.
Domains
This one is pretty simple: find and register your perfect domain name before someone else does! Domain names can be purchased in addition to your hosting service or as a separate service. The selection of domain zones is pretty wide and prices are quite nice.
Details for tech pros
Based in Singapore, JustVPS host their hardware at DPC (Data Processing Centers) market leader LeaseWeb. We're talking about a Tier III SIN-10 class data center certified by ISO 27001, PCI DSS, SOC 1 Type II, SOC 2 Type II and SS 564. The DC has two independent power inputs, and also 8 x 1,375 kVA uninterruptible power supplies (UPS) and 3 x 2,000 kVA diesel generators.
Each rack has two power connections and two 10GB uplinks connected to different data center switches. Each rack contains Cisco Nexus 9000 network switches with 48 ports of 10Gb each.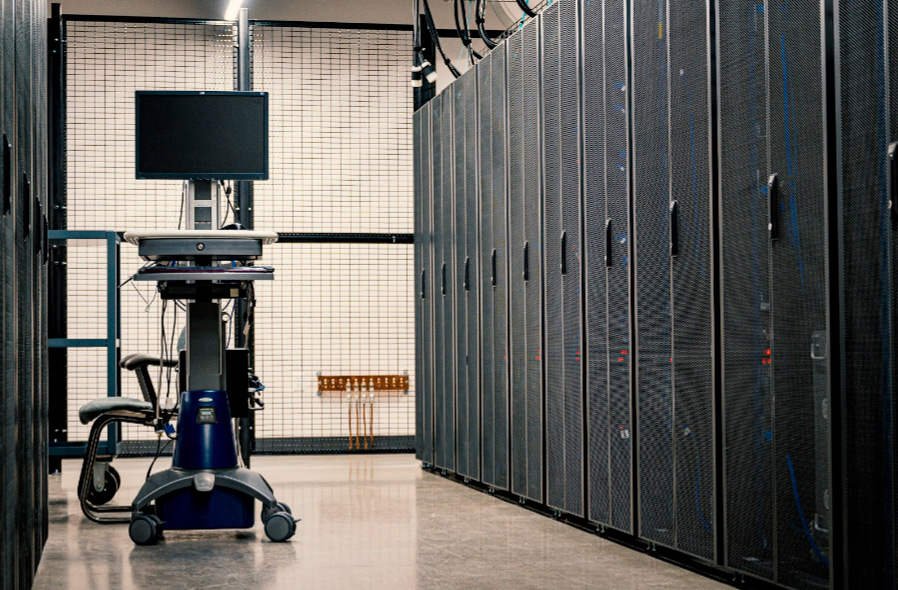 Cloud infrastructure
JustVPS uses high-performance servers powered by Quanta QuantaGrid D52B-1U platforms to build their cloud infrastructure. We're talking about two modern 12-core Intel Xeon Gold 5118 processors, 768GB DDR4 ECC Registered RAM and 12 Datacenter class SSDs installed. The servers are equipped with 4 network ports of 10Gb each.
The cloud is powered by OpenNebula – a dynamically developing Open Source project offering enterprise level software for building hybrid clouds. The distributed data warehouse is based on DRBD9 technology running on Linstor software. The main data warehouses have two complete replicas.
Using cutting edge technology JustVPS has been able to offer the market a high performing, reliable Cloud VPS. You can select from 4 plans with an impressive disk volume and traffic.
It's worth mentioning that in locations other than Singapore, Cloud VPS is implemented in partnership with Vultr. Dedicated server hosting is implemented in partnership with ITLDC.
Coming soon
Great news for Windows VPS fans — JustVPS is about to become a Microsoft SPLA partner! They're preparing to offer Windows Cloud VPS in Singapore at a fair price very soon.
The company has announced the development of the Public Cloud Solutions service which will include a number of interesting options like Virtual Private Networks, VirtualRouters, LoadBalancers, Auto Scaling Services and much more!
Support
At JustVps you'll get 24/7 expert support that works through a ticket system integrated into your personal account. Agents respond quickly and to the point and really try to solve your issue.
Find Companies with Similar Services
You may also like